PINK MUSCLES - THE SIGNAL (CD)
RELEASE DATE: MAY 1 2017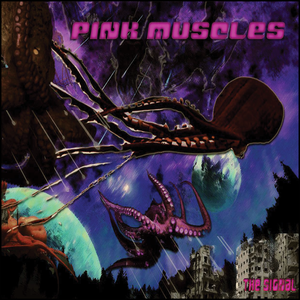 The angular punk of the debut release from Seattle's PINK MUSCLES combines stories of alien invasion and infestation with aggressive guitar-driven bursts, a noise rock cacophony and an unmistakable sense of humor. PINK MUSCLES has shared the stage with The Dwarves, Author and Punisher, Dayglo Abortions, Great Falls, Muscle and Marrow, and Nasalrod. Recorded by E. Elliott and band mastermind Marshall McLaughlin. RIYL BIG BLACK, BOTCH, LIGHTNING BOLT, ASSUCK, MELT BANANA.
1 Resumption
2 Teenage Rainbows
3 Infestopus
4 Star Grove
5 The Man at the End of My Street
6 Black Market Tampons
7 Battery Acid
8 Party at Murder Beach
9 The Egg Lady
10 I Wrote This Song With My Father's Guitar
11 The Master
12 Officers of the Universe
13 Heaven is for Real
14 Mouth House
REVIEWS

"Even weirder are Pink Muscles, whose loud rock cocktail splits the difference between Dead Kennedys and Pig Destroyer, only filtered through the melted circuit-board sound that made Botch so affecting. Better yet, singer/guitarist Marshall McLaughlin manages to shoehorn some human emotion into his spastic, room-clearing sound. When he sings "I wrote this song with my father's guitar," it's a rallying cry for a too-stale punk scene."
-
The Stranger

"Pink Muscles create spastic punk-fueled tunes that draw from death-metal skronk and no-wave. Short, punchy songs complemented by the frontman barking like a maniac out of breath."
-
Seattle Passive Aggressive"
PLAY
WATCH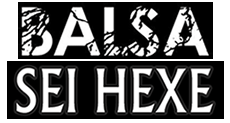 BALSA / SEI HEXE (7" SPLIT)

LATEST REVIEWS

SEI HEXE
- "Tight song structure... earthy with tribal rhythms and chanted, almost gothic vocals at times...and from the wreckage create something new and refreshing."
BALSA
- "Chaotic dual guitar arrangements over steady bass melodies, post-hardcore style vocals and off the wall drum patterns."
-
Profane Existence

SEI HEXE
- "Itís dark, aggressive, tribal, and gets under your skin... I have a feeling they probably kill this shit live"
BALSA
- "Three songs packed tight with steady drum fills and pulsing bass that keep things rolling"
- Razorcake