SBR3: BLOWBACK - LIES (CD)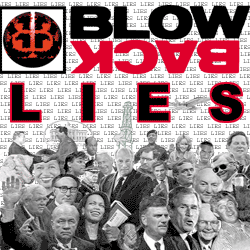 LIES is Blowback's second release, now on CD with 3 extra tracks. More fast and frantic punk with old school hardcore and protest punk influences. Still packed with plenty of political vitriol, LIES features "No Nos Moveran" (We Shall Not Be Moved); recorded for the Protest in Music exhibit at the Brown vs Board of Education National Historic Site. Complete lyrics and legend of faces on the cover included.
1 Fuck War
2 Black Tar
3 Johnson!!!
4 George's Daydream
5 Plegaria Del Sicario
6 1-2-3-4
7 No Nos Moveran
Reviews
"This sounds a lot like early Black Flag, but an updated version with lyrics about the war in Iraq and Enron…" - Punk Planet

"Some of the things these dudes are upset about are: war, capitalism, G. Dubya, the prison system, kids without parents and the enigma in which we call the United States of America home."[sic] - Impact Press

"Songs like 'Fuck War' and 'Johnson' sound a lot like early Black Flag, only this time the Bush in question is the [P]resident, not the VP." - Skratch Magazine

"…they play lots of political demonstrations, and joined some green anarchy tour. I for one could give two fucks… the singer tries to sound like Jello. " - HeartattaCk

"Sometimes this sounds similar to California hardcore like Black Flag or Circle Jerks and other times it sounds like chanted protest music…… I haven't seen something like this in punk music since Reagan. I wasn't even really there to see that." - Slug and Lettuce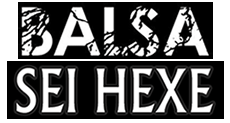 BALSA / SEI HEXE (7" SPLIT)

LATEST REVIEWS

SEI HEXE
- "Tight song structure... earthy with tribal rhythms and chanted, almost gothic vocals at times...and from the wreckage create something new and refreshing."
BALSA
- "Chaotic dual guitar arrangements over steady bass melodies, post-hardcore style vocals and off the wall drum patterns."
-
Profane Existence

SEI HEXE
- "It's dark, aggressive, tribal, and gets under your skin... I have a feeling they probably kill this shit live"
BALSA
- "Three songs packed tight with steady drum fills and pulsing bass that keep things rolling"
- Razorcake